WHY WALK WHEN YOU CAN CRUISE?
Uluru Segway Tours
We provide people a unique and fun new way to see Uluru.
Gliding around Uluru on a Segway is hard to beat. Admire the geology and size of this icon. See ancient Aboriginal rock art and learn about Anangu (local Aboriginal) people. Learn about their way of life and their culture, the Tjurkurpa.
Brilliant Way To See Uluru
"We did the Uluru by Segway tour, getting picked up from our hotel (Sails in the Desert). There was a short but comfortable ride to the park, where we were given all the gear we need and a short practice session on the Segway's. Our guide Nick was fantastic, and there were many opportunities to take photos. Having travelled for nearly a month in Australia, this was probably one of my favourite activities. Would highly recommend."
The Highlight Of Our Trip
"What an amazing experience. Initially we were worried about how we would go on a Segway. Honestly, they are no problem at all and really safe not exceeding 10 km per hour. After a quick lesson we were off and the Segway soon becomes second nature. This was definitely the highlight of our trip and we did it all from the sound of silence dinner, field of lights, camels etc. our guide James was incredible and his knowledge was incredible. I couldn't believe he had only been doing it a couple of months. He was such a pro and an asset to the company. What a way to see the whole circumference if the Rock. Spectacular!!!!"
Segway the Only Way to Go
"Our guide Megan was outstanding so patient, knowledgeable and fun. I was a bit nervous being the Mum I didn't want to disappoint my family by not managing it. Megan was so kind and understanding and boosted my confidence and I was zooming around in no time. Best way to tour the rock, we all loved it. Thank you so much Uluru Segway Tours a huge highlight of our trip."
"Brilliant way to go around the rock - never been on a Segway before. Very easy to use and provided a great little training track before setting off. Fantastic value given it was around 2.5 hr guided tour"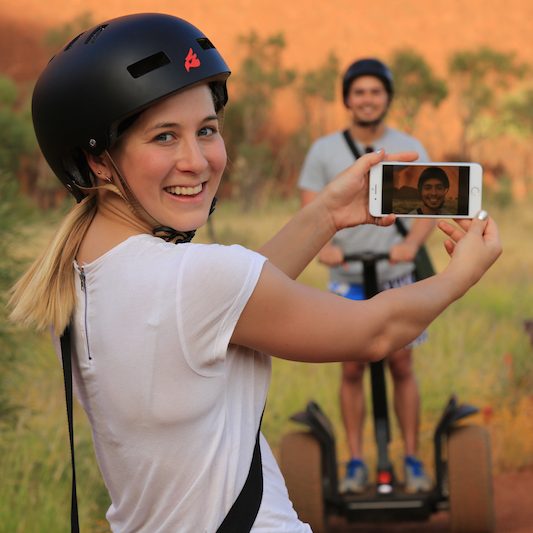 Experience one of Australia's most incredible landscapes and ancient cultures in this fun new way.
ULURU SEGWAY TOURS – EXPERIENCE ULURU / AYERS ROCK DIFFERENTLY
We offer a fun and exciting way to experience Uluru / Ayers Rock. What do we do at Uluru Segway Tours? We tour around the whole base of Uluru on Segway!! To learn more about our Uluru tours – click here or download a copy of our brochure.
Once you've arrived on your flight to Ayers Rock and are checked into your Uluru accommodation, it's time for some fun. Therefore it's time for your Uluru tours. Rather than walking the base of Uluru you can cruise it in style on a Segway. You have the choice of self-driving to Uluru or booking a transfer from your Uluru Accommodation within the Ayers Rock Resort. To learn more about accommodation and surroundings at Uluru – click here.
When it comes to experiencing Uluru, we believe the best way to do it is a tour on a Segway. Seeing the entire base of Uluru on a Segway is fantastic. It allows you to easily cruise the full base of Uluru, in less time than it takes to walk. On Segway you can even travel faster than the flies. Join us for a fully guided Segway Tour. If your not convinced here are a few reasons why we thing Segway tours are the best! 
Don't miss out. Book today to join our fully guided Segway Uluru tours, and see it all!

Our Awards & Accreditations