At Uluru Segway Tours we strive to provide sustainable and responsible touring.  We work with the local community and deliver low impact environmental touring.
Responsible Touring
Community Engagement
We strive to ensure that our Central Australia Region and local community benefit from our touring. To do this we engage with our community in a number of ways. Where possible we buy local and work with local trades people. We engage with our local tourism industry as well.  One example of this is our Director, Mark Swindells, who holds a position on the Tourism Central Australia Board of Directors.
Culturally Appropriate Touring
We offer culturally responsible touring. Our guides love to share Anangu, local Indigenous, culture. They  do this in a responsible way. All of our guides have completed a specially tailored course, through Charles Darwin University.  The course teaches them about our region and how to appropriately share cultural information.
In addition to this 2.5% of every tour sold goes to supporting the local Indigenous community, Mutitjulu.  We also work with employment agencies to provide work experience and potential future employment opportunities for Anangu.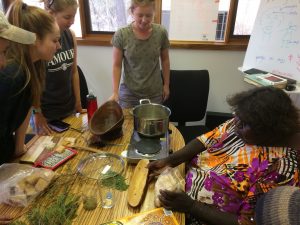 Working within Uluru-Kata Tjuta National Park
We operate within the World Heritage listed Uluru-Kata Tjuta National Park. We work closely with National Park Rangers and are actively involved in assisting with trail maintenance and weed control.
In the past few years our guides have participated in workshops ran by the National Park. The couses have deepened their knowledge and given them first hand experience learning from Anangu, Traditional Owners. Some of our team were lucky enough to volunteer and assist with Endangered Species monitoring programs.
---

Low Environmental Impact
The Segway
Did you know if the average person traded in their car for a Segway they could save over a ton of CO2 emissions in just one year?
Why drive around Uluru when you can Segway around it?
Segway's are a very energy efficient mode of transport and only require power during recharge time. Uluru Segway Tours has its base in the township of Yulara; where solar power produces 15% of the town's power. This means that our Segways have a very low carbon footprint.
Solar Fridges
On our sunrise and sunset tours we offer picnic nibbles at the base of Uluru. To help keep the drinks and food cool we use a transportable solar fridge! This means we can keep our snacks cool using sustainable energy!
Water Conservation
Did you know the average office worker uses 50L of water per day? For a team the size of ours that would equate to 1650L of water each day, of course we don't use anywhere near that much water! We live in the dry Central Australian Outback and at Uluru you have to be water conscious.
To help deliver responsible touring we are a water conscious business and use a tiny 150L of water per day for our operations. We do this by using low flush toilet and low flow fittings at the mobile site office to ensure minimal amounts of water are required to run our site base.