There are so many wonderful things to see when you visit Uluru, this spectacular region really is the destination for all ages. Whether you're traveling to Uluru and staying only for a few days, or you've got a larger Uluru trip planned, make sure you add these sightseeing adventures to your list!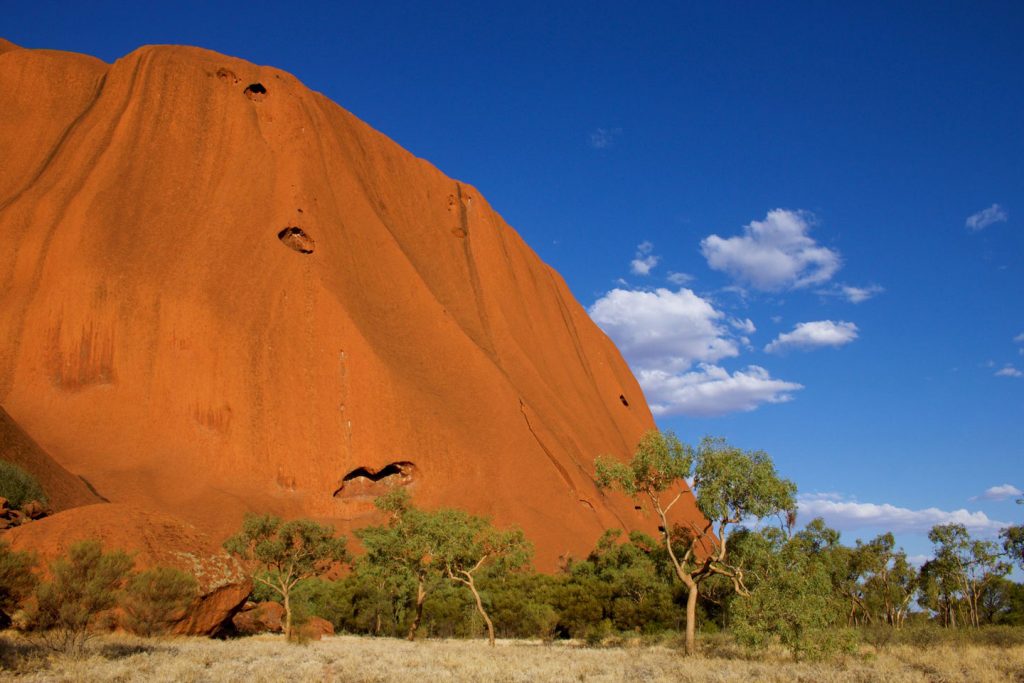 Visit Uluru: Ayers Rock Segway Tours
One of the best things to do in Uluru is to jump on one of our Uluru Segway Tours to explore the natural surrounds in a more fun, exciting and faster way than walking. Our Uluru (Ayers Rock) tours allow you to Segway around Uluru, covering the entire base while admiring the geology, size, history and stories of this icon. Our experienced Uluru tour guides will lead you to ancient Aboriginal rock art, teach you about Anangu (local Aboriginal) people, their way of life and their culture, the Tjurkurpa.
Our Segway tours allow you to avoid the crowds and experience the wonders of Uluru in an easier way, aboard a Segway! We have a variety of ways to tour and Segway Uluru, including sunrise and sunset tours, with short stop offs to walk to the beautiful Mutitjulu Waterhole, as well as a full base tour which will lead you around the entire 12km Ayers Rock trip. Uluru Segway Tours start from $139 for a 2.5 hour tour, so you can easily fit it into you Ayers Rock sightseeing itinerary.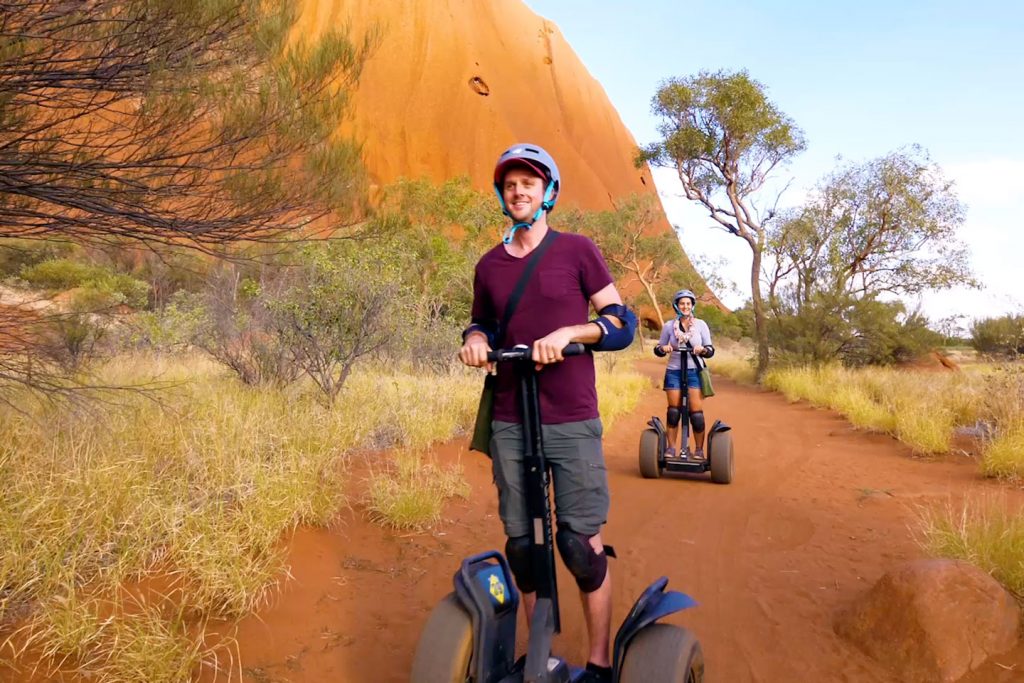 Experience the Uluru Cultural Centre
Once you have completed the rock tour, Uluru has a number of other cultural attractions you should explore. The first Uluru attraction next on your list should be the Cultural Centre, which supports the local community, is home to several Indigenous art stores, and will allow you to further your understanding of Uluru-Kata Tjuta National Park. Here you can uncover more about Anangu culture, as well as more insight into natural environment, flora and fauna within the park through the centre's exhibits and free presentations with Anangu and park rangers. This is a must-do before embarking on a self-guided Uluru day trip or exploring Ayers Rock and beyond.
Explore Kata Tjuta
When planning your Uluru day trip, make sure to add in a visit to Kata Tjuta (also know as The Olgas). Located approximately 40km west of Uluru, these iconic rock formations are known to shift and change colours at sunrise and sunset, as shadows dance across their surface. The Kata Tjuta rock formation consists of 36 enormous domes that span across more than 20 square kilometres, and incredibly enough, it's highest dome is even taller than Uluru – soaring an amazing 546m above surrounding plains! This natural wonder and cultural landmark is a significant Anangu (local indigenous) men's site, so when you visit remember to remain respect, tread lightly, take nothing and leave nothing.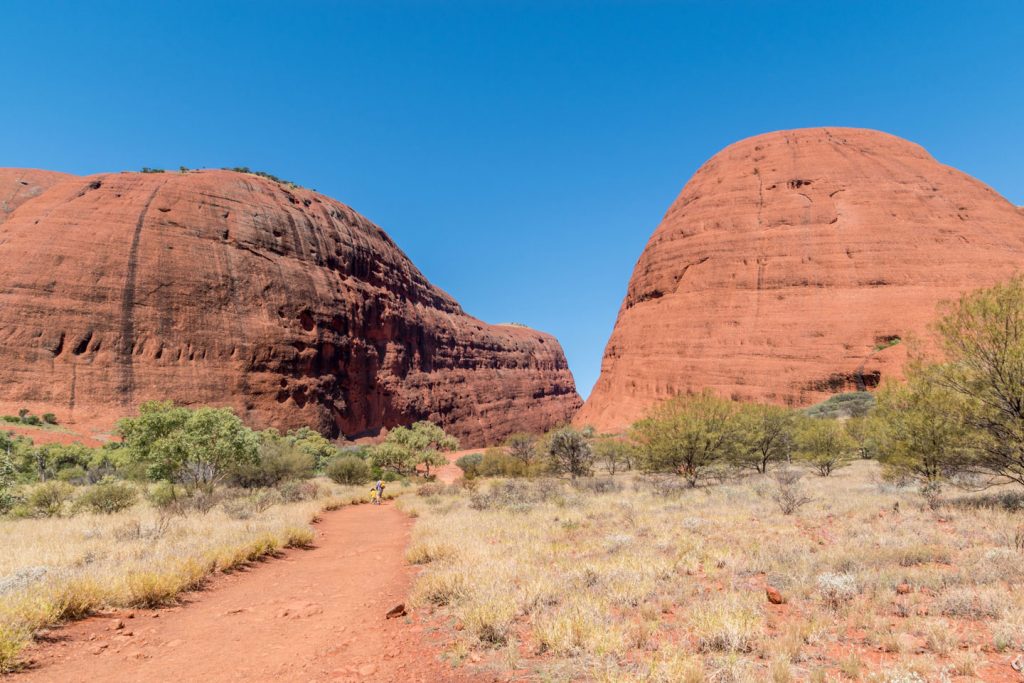 Voyages Ayers Rock Resort
Many of those who travel to Uluru end up staying at Uluru Voyages Ayres Rock Resort, situated just 20km from Uluru and has a variety of accommodation experiences to suit your budget. If you're not staying with the resort, you can still check out the Sounds of Silence Dinner that they host, which offers an amazing Uluru Experience and immersion into the Red Centre in four magical hours. As darkness falls, you'll be treated to an unforgettable dining experience involving a bush tucker buffet, under a sparkling sky with the sounds of didgeridoo perfecting your experience.
Uluru Road Trip
After exploring the heart of the red centre, it's time to embark on your Uluru road trip and visit other iconic destinations nearby. Begin your road trip by travelling to the spectacular Kings Canyon, approximately 3 hours drive away. The soaring sandstone walls of Kings Canyon, immense gorge and the landscape below can be witnessed in an incredible, yet challenging Kings Canyon Rim Walk. It's best to rise before the sun and embark on this 4 hour, 6 kilometre walk so you can see the sunrise above the canyon.
There's no doubt that there are many amazing experiences and sights to see when you visit Uluru. Start planning your Uluru itinerary today, and book an Uluru Segway Tour. After all, why walk when you can cruise?!